Let's see – crypto-fascist demagogues in seats of power all over the world, a global pandemic obliterating any notion of daily life, a more metaphorical epidemic of police violence, widespread infernos creeping across the American west and turning the sky over California an apocalyptic blood-crimson, what else? Does the impending release of a new film by McG count? At any rate, straits have never been more dire for the human race, and everyone's searching for a reprieve wherever they can get it.
Naturally, we look to pop culture to satisfy that need, but the trouble starts when pop culture tries to meet us halfway. So much of the entertainment produced in express opposition to Trumpism, to Brexit, to the ambient awfulness of the now, has faltered by positing itself as a solution. No matter the esteem in which the public holds it, art cannot topple authoritarian governments or restore democracy, and that which purports to do so is doomed to suffocate in its own inflated self-importance.
Starting from the brave-new-world title, American Utopia announces itself with a certain urgency. Onetime Talking Heads frontman and ambassador of musical goodwill David Byrne explicitly conceived the album that led to the concert tour that led to the Broadway show that led to Spike Lee's filmed version of the same as an effort to spread positivity. A stirring rendition of Janelle Monae's protest song 'Hell You Talmbout', accompanied by named photos of men and women of colour slain by police officers, places that spirit of buoyancy in the grave context of the present. Byrne endeavours to shine a light in the darkness, no easy feat.
And yet he rises above by refraining from making this project out to be anything more than it is: pure elation in celebration, of music and movement and the people creating it. Byrne's crowd work between songs sometimes overplays the hand of his political motivations, as in the odd appearance of Colin Kaepernick or the brief tangent about low voter turnout.
For the most part, however, he allows this gust of transcendent uplift to be simply that. The invocation of Black lives taken too soon serves to remind us that our striving is never finished, that what happens here cannot change the past or secure the future. Still, the performance puts forth kindness and harmony as the core nature of that striving, with their songs as a humble tribute. For Byrne, that's plenty.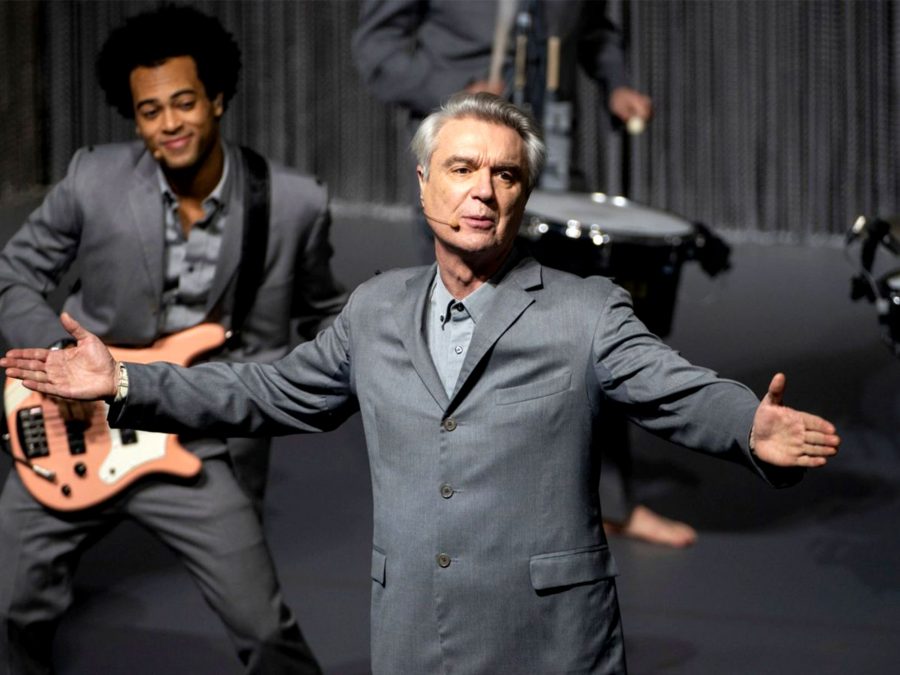 As if no time has passed at all, he conjures the same magnanimous charisma that's made 1984's Stop Making Sense the standard against which all other concert documentaries are measured. Byrne's voice sounds warmer now, the affected quality of his delivery having ripened into the inviting, friendly cadence of a kids' show host you feel you can trust. He's backed by a multiethnic, multinational ensemble who embody an appropriately utopian ideal for a more united United States. The grey-suited battalion of Byrne's disciples manage the impossible and reinvigorate 'Once In a Lifetime', an existential-crisis anthem expanded into a broader plea for redemption before it's too late for all of us.
It's easy to shift the auteur designation onto Byrne, but we'd be remiss to forget that this is a Spike Lee joint. His direction complements the choreography with unobtrusive tact, deploying aerial shots so expertly and integrally that it seems unfair for the ticket-holders to have missed out on them. Close-ups capture a detail of emotion also lost from even the non-cheap seats, as holy ecstasy washes over the faces of backup dancers Chris Giarmo and Tendayi Kuumba.
This film knows its purpose as a fleeting salve for the soul, and serves it generously. The momentous challenges facing our species won't be swept away – if anything, they're foregrounded – but they're made tolerable if only for the hour and a half of rapture afforded by Byrne's joyful noises. That's a precious thing, achieved only through his peerless talent and control as a showman. Which is just to say, same as it ever was.
David Byrne's American Utopia is available on Digital Download on 14 December and DVD on 11 January, 2021.
ANTICIPATION.

David Byrne only played the greatest concert film ever made, no biggie.
4
ENJOYMENT.

Overwhelming, overflowing joy.
5
IN RETROSPECT.


Leaves its messages and tunes stuck in your head.
4
Directed by


Spike Lee

Starring


David Byrne,
Jacqueline Acevedo,
Gustavo Di Dalva

The post David Byrne's American Utopia appeared first on Little White Lies.