Twelve-year-old Kingsley (Kenyah Sandy) prays before he goes to bed: "I'm sorry I was naughty today. But if I'm a good boy, can I please be an astronaut like Neil Armstrong, and also play for Tottenham?" His bedroom looks like a shrine to the solar system and the constellation of stars who represent his beloved Spurs.
Education opens with an awestruck Kingsley watching an animated depiction of Andromeda projected on the classroom ceiling. Cut to his next class, and it's Kingsley's turn to read aloud. Nervously stuttering, he can't read the first word. His teacher calls him "blockhead" and asks the student beside him to take over, who reads the passage effortlessly. Later in music class, Kingsley gets rambunctious on the drums and hollers over the rest of the class' singing. His music teacher thinks he hears Kingsley cuss in the commotion, grabs him by the shoulder and sends him off to the headmaster's office.
For no better reason, Kingsley is "streamed" to a "special school," which in truth is neither special nor a school, but a mangy classroom where the teachers hardly show and the students rough it in the parking lot for recess. As one of the only West Indian students in a predominately white school, Kingsley is guilty of not thriving in an educational system that never considered his individual strengths and needs.
Many West Indian students were thrust into these schools as a means of unofficial segregation. But it's the eve of the Black Education Movement, around the late 1960s or early '70s, and various organisations campaign for educational reform and establish "Saturday Schools" with their own curriculum to elevate the educational attainment of Black children. Lydia Thomas (Josette Simon), a member of one such group, shows up on Kingsley's doorstep to warn his parents about the conditions of his school, but Kingsley's stern mother Agnes (Sharlene Whyte) responds defensively, shooing Lydia away.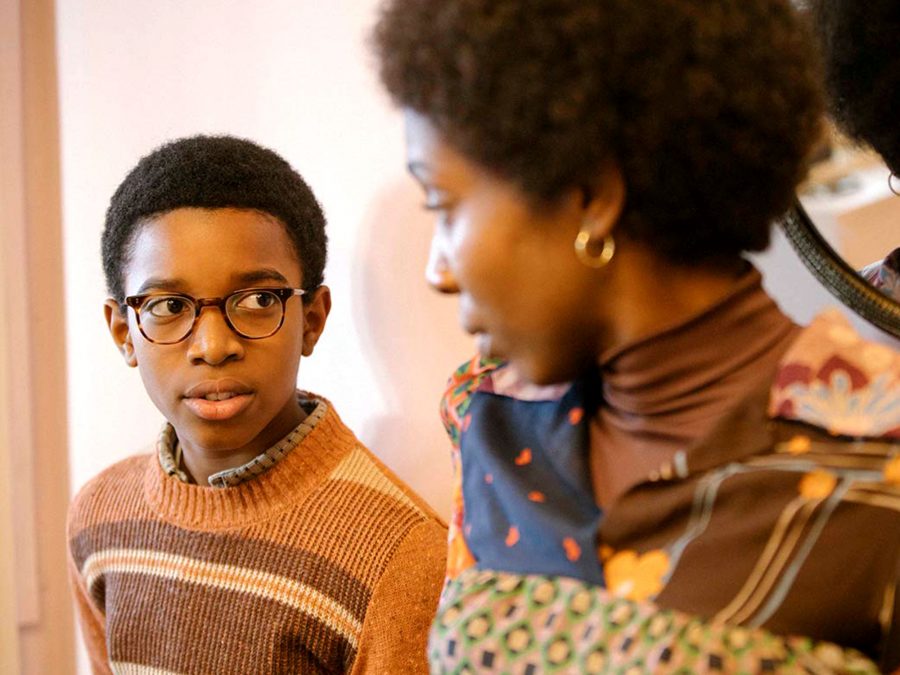 As with the other Small Axe films, Education sees Steve McQueen directing with great dramatic economy. We know how quickly Agnes will kick Lydia out of her home because she wears a short skirt, and we've seen her demand her daughter Stephanie (Tamara Lawrance) take down her hem in an earlier scene. We know how fast Kingsley will be kicked out of school, because the sound of the music teacher grabbing his shoulder has been augmented with a bassy oomph that makes the contact feel as invasive as it should.
Familiar family archetypes keep the film moving forward, too. Agnes is devoutly Christian and Kingsley's father Esmond (Daniel Francis) hopes his son will take up carpentry like he did. But distinct character notes from the script and cast ensure the archetypes feel sincere. When Agnes becomes angry with her children, she doesn't say she is or why, but sends them off to study or do chores that may or may not need to be done. On the other hand, she'll tell Kingsley she's cooking roti, or that he can watch the television, if she wants to cheer him up.
Without words, the film shows us one of the reasons Kingsley wants to be an astronaut. He lays in the bathtub, with all but his nose and mouth below the surface of the water. The sound of his breath is enhanced to mimic the echo chamber of a spacesuit and a whining, sci-fi score is laid gently under the scene. It's clear he is imagining himself as an astronaut, far from his own circumstances, or separated from them by the water in the tub. But a nondescript thud from downstairs disturbs his fantasies of solitude, and he comes out from the water and back to earth.
Saturday School teaches him the history of his African and West Indian ancestry, from Amina, the Hausa warrior queen of Zaria to Claudia Jones and encourages him to learn tenaciously in the way he'd been punished for in the mainstream school system. This inspires Kingsley enough that being an astronaut becomes more than just an escape to pray for in spite of being "naughty," but a reality he feels he deserves.
Watching Kingsley endure a system that constantly holds him back – his age and race effectively rendering him voiceless – is devastating. But the love and strength of his family, an intimate victory in the resistance against racism, perseveres despite us knowing the battle won't be won in his generation or ours.
ANTICIPATION.

Supposedly the most personal of Steve McQueen's Small Axe films.
4
ENJOYMENT.

A narrative told with dramatic economy provokes a broad spectrum of emotions.
4
IN RETROSPECT.


McQueen has such control over his craft that the film, and its impressions, remain sealed and solid.
4
Directed by


Steve McQueen

Starring


Kenyah Sandy,
Tamara Lawrance,
Sharlene Whyte

The post Education appeared first on Little White Lies.