There are some songs whose widespread, apparently unabashed popularity is irrefutable and yet impossible to explain. You know the ones – everyone seems to know the words, or at the very least can hum along, even though there's no logical reason why this particular tune has become lodged in the public consciousness.
Case in point: 'Sweet Caroline' is routinely chanted at baseball games and boxing matches and is a staple of talent contests and karaoke bars everywhere. It has featured in dozens of adverts, films and television shows, and at the time of writing has racked up well over 300 million streams on Spotify. It is to pop music what Nigel Farage is to British politics: maddeningly immovable.
In George Clooney's latest directorial effort, this ubiquitous soft rock anthem is sung in earnest by a group of astronauts who have been tasked with saving humanity – a sure sign that we are all, in fact, doomed. If the prospect of Neil Diamond taking up residency in outer space is enough to make you want to scream into the void, then consider yourself warned: that inauspicious needle drop is by no means the only flat note in the film.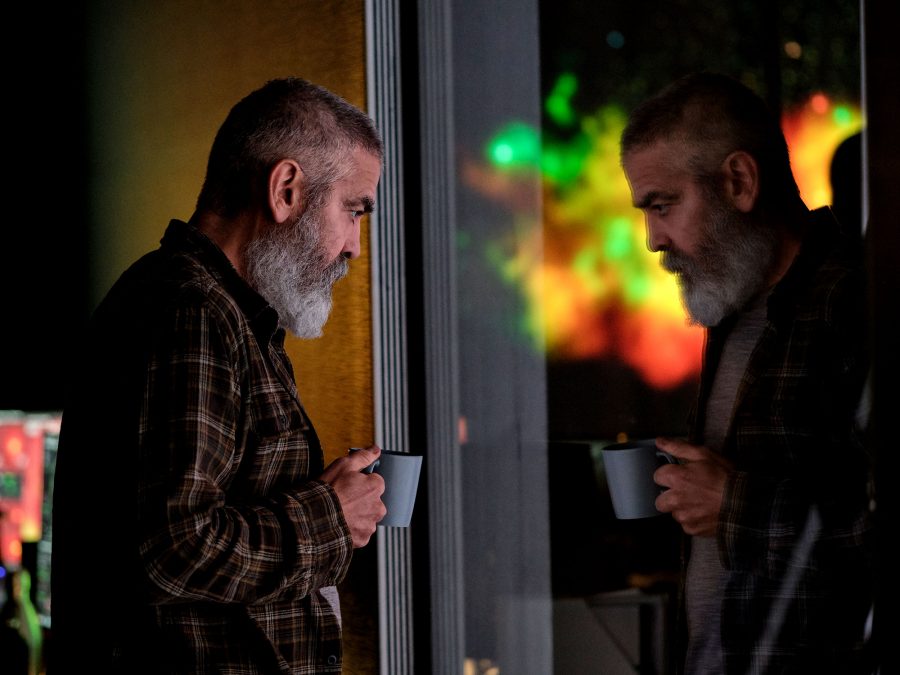 Based on Lily Brooks-Dalton's 2016 novel 'Good Morning, Midnight', The Midnight Sky is yet another entry into the Sad Dad Space Movie canon, a vague thematic composite of Ad Astra, High Life, Interstellar, Prometheus and the grandaddy of the genre, 2001: A Space Odyssey. On a basic script level, however, the film it has most in common with is Denis Villeneuve's Arrival, in that it too doesn't quite land its lofty emotional payoff.
The year is 2049, and a post-apocalyptic premise is established in the opening frames by a title card that places us "three weeks after the event". An unspecified ecological disaster has cut off Clooney's grizzly astronomer, Augustine, from the rest of civilisation – but as he prepares to hunker down in an abandoned Arctic outpost, he discovers that a small girl has been left behind, and so is now his responsibility and his alone.
Evidently parenthood is not second nature to Augustine; he's more concerned with delivering an urgent message to the aforementioned astronauts, who are speeding across the universe on a deep-space research vessel. On board are David Oyelowo, Tiffany Boone, Demián Bichir, Kyle Chandler and Felicity Jones, whose real-life baby bump (she was three months pregnant when filming began) is exploited in order to raise the dramatic stakes. Added to this, Jones' Sully, though clearly highly skilled, is the only crew member whose acumen is repeatedly (albeit semi-jokingly) challenged by her male colleagues. Not exactly a giant leap for female STEM characters, then.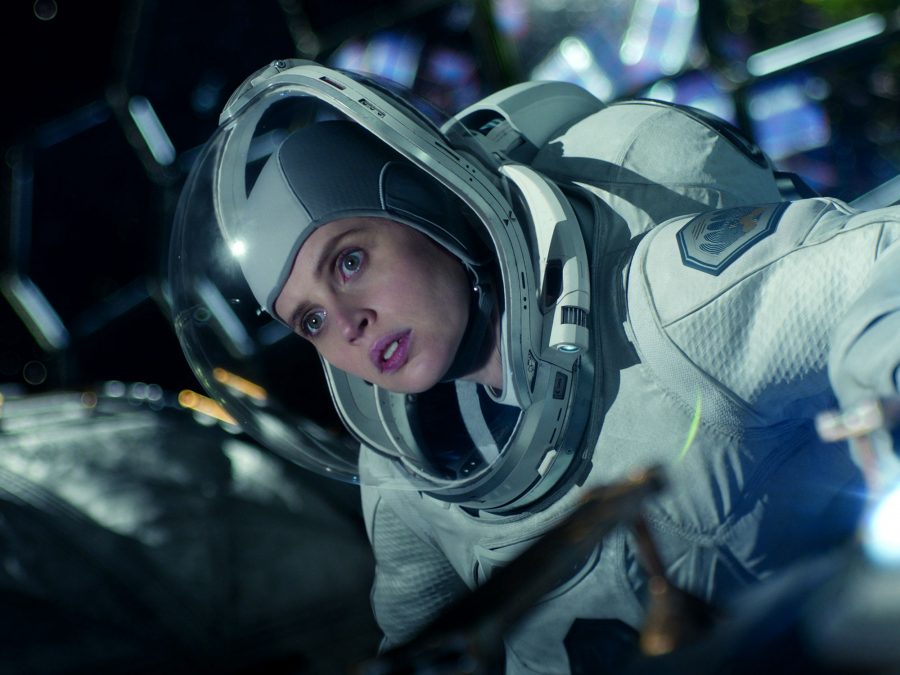 If you haven't already guessed, this is a film about connection, about how the fundamental human impulse to form bonds with one another is so powerful that it can transcend time and space. Through a handful of expositional flashbacks we learn that Augustine (played in these scenes by recent Star Trek alumnus Ethan Peck, who's hardly a dead ringer for Clooney but does manage to pull off an uncanny vocal impression) is brilliant and charming but not much of a people person. He's too wrapped up in his work, the irony being that his commitment to giving life hope all but negates it from his own existence.
Netflix reportedly furnished Clooney's artistic vision to the tune of $100m, but the result is remarkably cheap-looking, from the CGI-rendered exterior shots of the space station to one especially ropey earthbound action sequence in which Augustine inadvertently ploughs a snowmobile through a sheet of ice. Part of the problem is that we've seen it all before, only done better. It doesn't help that it sometimes feels like two different screenplays were filmed: a survival thriller in which a lone protagonist skulks around a frozen dystopia; and a space drama centred around an ill-fated mission.
If there's a degree of intrigue surrounding the devastating events – both personal and environmental – that have brought Augustine and the astronauts to this point, the film is more unequivocal (read: heavy-handed) in its message. On top of Alexandre Desplat's maudlin score, which constantly tells us how we're supposed to feel, the script trades in clichés and artificial catharsis, offering scant insight into the far-reaching existential questions it poses. Hands, touching hands, reaching out, falling short.
ANTICIPATION.

Clooney's track record as a director is patchy.
3
ENJOYMENT.

A pretty dismal Sad Dad Space Movie.
2
IN RETROSPECT.


Shine on you crazy Diamond.
2
Directed by


George Clooney

Starring


George Clooney,
Felicity Jones,
David Oyelowo

The post The Midnight Sky appeared first on Little White Lies.